Bale & Flat Trailers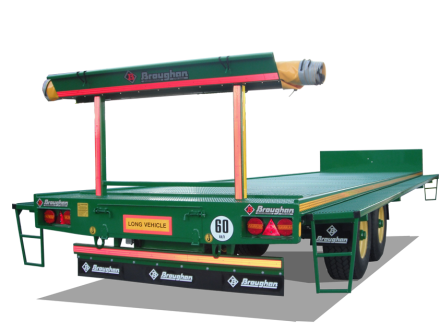 The Bale & Flat Trailers range from 24ft - 36ft. The Trailers can come as Standard or Heavy Duty Standard, with the Optional Extras alongside. The following are on all Standard Bale & Flat Trailers: Colours; Red, Blue, Green or Black, Side Marking, Tool Box, Rope Hooks, Front & Rear Bale Racks, LED Road Lights, Side & Rear Lights and Mudguards. Heavy Duty Standards are as follows: Steel Chequer Plate Floor (4.5mm), 10 Stud Commercial Axles, Front & Rear Bale Racks, Sprung Drawbar, Hydraulic Brakes & Tool Box. Optional Extras: ABS Brakes, Air Brakes, Swivel Hitch, Spoon Hitch, Beacons, Hydraulic Side Catwak & Box Pusher.
These Trailers are fitted with a wide choice of options to suit the customers individual specification.
| Length | 24ft | 27ft | 30ft | 30ft | 32ft | 32ft | 36ft |
| --- | --- | --- | --- | --- | --- | --- | --- |
| Width | 8ft 3" | 8ft 3" | 8ft 3" | 8ft 3" | 8ft 3" | 8ft 3" | 8ft 3" |
| Height | Depending on tyre size | | | | | | |
| Axles | Twin | Twin | Twin | Tri | Twin | Tri | Tri |
| Suspension | Spring | Spring | Spring | Spring | Spring | Spring | Spring |
| Floor | 4.5mm Cheq | 4.5mm Cheq | 4.5mm Cheq | 4.5mm Cheq | 4.5mm Cheq | 4.5mm Cheq | 4.5mm Cheq |
| Brakes | Hydraulic | Hydraulic | Hydraulic | Hydraulic | Hydraulic | Hydraulic | Hydraulic |
| Wheels/Tyres | 400/65/22.5 Cargo BiBs remould | 400/65/22.5 Cargo BiBs remould | 435/50/19.5 Heavy Duty | 445/45/19.5 New Heavy Duty | 435/50/19.5 Heavy Duty | 445/45/19.5 New Heavy Duty | 445/45/19.5 New Heavy Duty |
| Drawbar | Sprung | Sprung | Sprung | Sprung | Sprung | Sprung | Sprung |
| Capacity | 14 tonne | 14 tonne | 16 tonne | 24 tonne | 20 tonne | 24 tonne | 24 tonne |