PS 120/ 200/ 300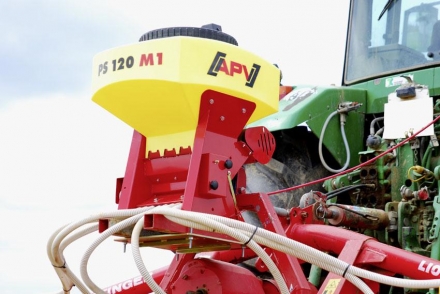 The Pneumatic Seeders 120, 200 & 300 are also known as the " The Great Little Ones". They are the perfect professional implement for use on small as well as medium farms. They only differ in terms of the seed tank volume.
Benefits of the PS Implements :
Quick & Easy to mount, Easy Retrofitting of sensors, Precise spreading of the seed, Excellent lateral distribution over the whole working width, State of the art technology.
PS 120 & PS 200 are ideal for implements with restricted space and being mounted on narrow or low weight soil tillage implements.
PS 300 gives comfortable operation at higher spread rates due to saving time for refilling and easy mounting.
Items Included:
Optionally with Control Box 3.2, 5.2 or 6.2 (different price category)
Complete seeder with hoses (25 m)
Seeding shaft for fine seeds, seeding shaft for coarse seeds
Agitator
6 m cable from seeder to control box
Calibration slide, counter plate, calibration bag, seed scale
Fan pressure monitoring* for hydraulic fan
8 dispersion plates & 4 hexagonal bars of 1.2 m (for mounting the dispersion plate)
Technical Data

PS 120

PS 200

PS 300

Working width

1 - 6 m with electric double fan, 8 outlets
(8 outlets with 8 Y distributors or doubling pieces available as accessories)


1 - 6 m with electric double fan, 8 outlets

1 - 7 m with hydraulic fan, 8 outlets

1 - 12 m with hydraulic fan, 16 outlets (optional)
(8 outlets with 8 Y distributors or doubling pieces available as accessories)

1 - 6 m with electric double fan, 8 outlets

1 - 7 m with hydraulic fan, 8 outlets

1 - 12 m with hydraulic fan, 16 outlets (optional)
(8 outlets with 8 Y distributors or doubling pieces available as accessories)

Dimensions elec.

H 90 cm, W 60 cm, D 80 cm

H 100 cm, W 70 cm, D 90 cm

H 110 cm, W 80cm, D 100cm

Seed hopper

120 Litre Capacity

200 Litre Capacity

300 Litre Capacity

Net weight elec. / hydr.

45 kg

60 kg / 83 kg

70kg / 93kg

Power data

12 V / 25 A

12 V / 25 A

12 V / 25 A