Allrounder Flatline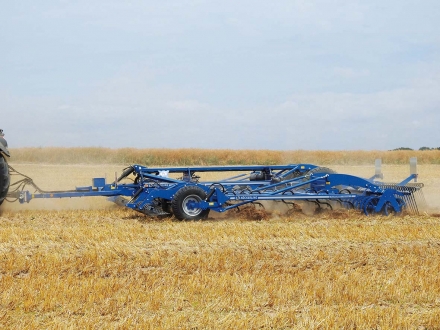 New for 2020 was Kockerling Allrounder Flatline, the perfect tool for Autumn cultivations.
Building on the success of the Allrounder Profiline Kockerling have developed the Allrounder Flatline for extremely precise cultivation and residue incorporation. The Flatline can be used as a primary or secondary pass machine or into ploughing.
The Allrounder Flatline can work from very shallow or to a depth of 13cm. The working depth is fully hydraulic and adjustable on the move from the tractor cab.
The new heavy duty double sprung elephant tines are spaced at 130mm over 6 rows, this tine spacing gives excellent clearance for crop reside to flow around the tines and leave a very level finish with organic matter evenly distributed even in the toughest of conditions.
The flatline has outstanding contour following based on 4 well spaced depth wheels and the original double STS roller. The wings will move independently to match field conditions, so the machine works reliably at the set depth.
The machine is available in two working widths 6m & 7.5m and can be fitted with various point options from 60-200mm. You have the option of fitting either a front level board or a knife roller with a diameter of 360 mm and 6 coiled knives, this is ideal for rapeseed stubble to cut up the crop residue, other organic residues and cover crops are also reliably cut. Both options are hydraulically controlled. Wheel mark eradicators can also be fitted if required.
| | | |
| --- | --- | --- |
| Allrounder Flatline | 600 | 750 |
| Working width | 6,00 m | 7,50 m |
| Transport width | 3,00 m | 3,00 m |
| Number of tines | 47 | 59 |
| Tine spacing | 13 cm | 13 cm |
| Under frame clearance | 64 cm | 64 cm |
| Weight | 8150KG | 9710KG |
| HP requirement | 250HP | 300 HP |
| Tine Bar Spacing | 70 cm | 70 cm |