Silage, Grain & Root Crop Trailers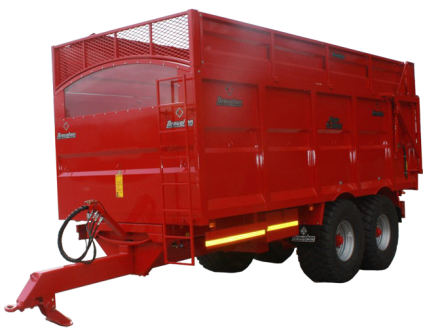 A range of high spec Grain, Silage and Root Crop Trailers, available from 12 -24 ton. The following are all standard with the trailers: Colours; Red, Green, Blue or Black, Mudguards, Side Markings, Brakes, Lights; Side, Rear, Road, 10 Stud Commercial Axles and Single Leaf Spring. There is also a wide range of optional extras: Flashing Beacon, Air Brakes & Suspension, Hitch Toolbox, Roll Over Cover, ABS Brakes, Spoon/Swivel Hitch, Catwalk, Grain Chute, Catching Board and Self Locking Rear Door.
Whatever your requirement you can be sure that Broughan can faciltate any design features you may need!!
| Capacity/Length | 16ft | 18ft | 20ft | 22ft | 24ft |
| --- | --- | --- | --- | --- | --- |
| Axles 127mm round | Twin | Twin | Twin | Twin/Steering | Tri/Steering |
| Drawbar | Sprung | Sprung | Sprung | Sprung | Sprung |
| Suspension | Spring | Spring | Spring | Spring | Spring |
| Brakes | Hydraulic | Hydraulic | Hydraulic | Hydraulic | Air/Hydraulic |
| Outside Width | 8ft 3" | 8ft 3" | 8ft 3" | 8ft 3" | 8ft 3" |
| Floor | 5mm | 5mm | 5mm | 5mm | 5mm |
| Height (to floor) | 4ft | 4ft | 4ft | 4ft | 4ft |
| Wheels/Tyres (standard UK) | 400 Cargo (remould) | 400 Cargo (remould) | 400 Cargo (remould) | 18R (remould) | 445/65/22.5 (new) |
| Wheels/Tyres (standard Ireland) | 400 Cargo (remould) | 18R (remould) | 18R (remould) | 18R (remould) | 445/65/22.5 (new) |
| Sides (height) | 4 to 6 ft | 4 to 6 ft | 4 to 6 ft | 4 to 6 ft | 4 to 6 ft |
| Sides | 3mm | 3mm | 3mm | 3mm | 3mm |
| Cubic Metres (5ft Sides) | 18.72 | 20.38 | 22.65 | 24.92 | 27.18 |
| Capacity | 12 tonne | 14 tonne | 16 tonne | 18/20 tonne | 22 tonne |