Ecoweeding Spike Rotoweeder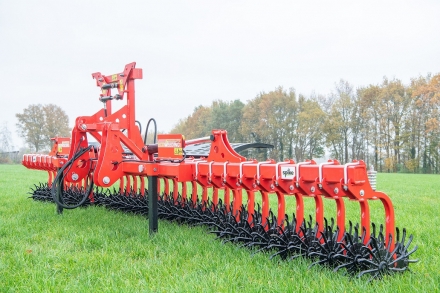 The Spike Rotoweeder is available in 6.2m and 8.1m working widths (wider widths in development) and is the perfect machine for eliminating small weeds, and breaking the crust caused by heavy rainfall, the soil is aerated, and plant growth supported.
With operational speeds of between 10-25KM/h very high productivity can be achieved.
Key Features
Welded wheels with 15 Spikes. The "spoons" on the Spikes are hardened for a long working life. The wheels have a double bearing that is completely sealed to keep dust out. Each spiked wheel is 400mm in diameter.
All wheels are connected to the machine with a specially constructed connection. Elements can easily be moved or taken out using just 2 bolts, this is useful if you only want to work inter-row.
The Spike Rotoweeder has 2 hydraulic double working cylinders which allows you to change quickly from work to road transport. The Machine also has a Hydraulic transport locking system ensure wings are safely locked during transport.
All elements on the Spike Rotoweeder have single spring suspension, this allows the elements to follow the contours of the field perfectly.
The Spike Rotoweeder has a protection shield in the centre section of the machine to avoid stone damage to the tractor cab and secures the safety of the tractor driver.
The machine comes standard with LED lights.
These machines can be fitted with pneumatic seeders that allow you to quickly establish cover crops as well as being able to under sow maize with grass or reseeding grass lays.
Machines can also be equipped with a towing linkage, which allows the Ecoweeding Cambridge rolls to be towed behind.
| | 6.20m | 8.10m |
| --- | --- | --- |
| Transport width | 3.00m | 3.00m |
| Transport height | 2.96m | 4.00m |
| Weight | 1275kg | 1550kg |
| Power requirement | 60HP | 70HP |
| Connection | Cat 2 | Cat 2 |
| Number of elements | 33 | 43 |
| Number of wheels on Element | 2 | 2 |
| Number of spikes on the wheel | 15 | 15 |
| Min distance between wheels | 200mm | 200mm |
| Diameter of the wheel | 400mm | 400mm |